---
Dustin Frazier Wood
SGS is pleased to release the first volume of William Stukeley's Memoirs of the Royal Society in an open access digital edition created by SGS and u3a members over the past year. Tremendous thanks go to the 36 volunteers who gave their time and energy to the project.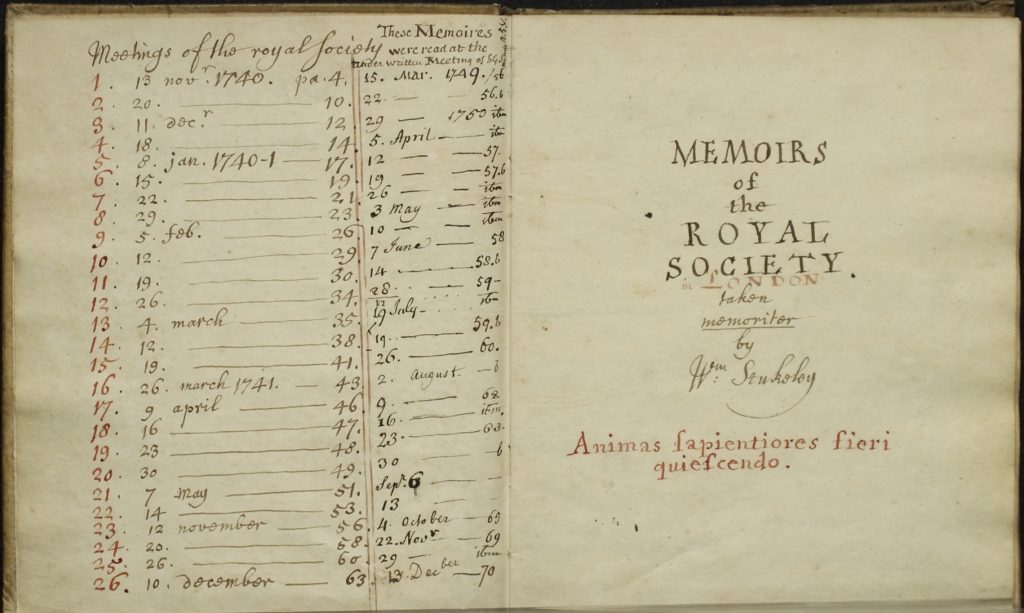 William Stukeley (1687-1765) was a physician, clergyman and antiquary, and one of the founders of what is now known as archaeology. Born in Holbeach, Stukeley was a long-time friend of Maurice Johnson and joined the SGS in 1722. Although Stukeley rarely attended SGS meetings, he remained a regular and active correspondent for the next four decades. Along with letters to Johnson and the SGS, he contributed books, sketches, specimens and the five manuscript volumes of the Memoirs.
Stukeley compiled the Memoirs to document the activities of the Royal Society, Britain's premier scientific body. Covering the years 1740 to 1751, the Memoirs provide an entertaining first-hand account of a pivotal period in the history of science in Britain. As a narrative written for friends and fellow SGS members, they also provide insights into the politics and personalities of Britain's scientific community.
Engaging, informative and often funny, Stukeley's Memoirs allow us to imagine the early life of both the Royal Society and the SGS through the words and drawings of one of their most remarkable members.
We hope you enjoy reading Volume 1. Further volumes will appear on the SGS website over the coming months.
The Editors
Dr Dustin M. Frazier Wood, SGS Librarian
Dr Mandy Topp, u3a Research and Shared Learning Coordinator (East Midlands)