Library
The SGS Library holds approximately 30,000 printed books, periodicals, maps and prints. The collection is made up of the Society's 18th century museum library, the Parish Library of St Mary and St Nicholas, the 18th century Spalding Grammar School library, and a modern research collection. The Local Studies Collection houses the region's premier collection of printed materials related to South Lincolnshire and the Fens.
The library is open on Mondays from 9am to 12.30pm, and at other times by appointment.
Anyone wishing to consult library materials should bring a completed Reader Registration Form, photo ID and proof of address.
Archive
The Society's archive houses manuscripts, drawings, maps and prints from the 13th century to the present day. Among the most important holdings are the records of the Society itself: minutes, account books, lecture notes, and a collection of correspondence that comprise the most extensive record of any provincial learned society of the 18th century. The archive also holds important manuscripts from Crowland Abbey and Spalding Priory, including the Myntling Register and Crowland Cartulary. We also preserve extensive collections relating to Spalding and nearby parishes, and civic, business, organisational and family archives dating back to the late Middle Ages.
Visitors who wish to consult rare books and manuscripts should bring a Reader Registration Form (with photo ID and proof of address), as well as a letter of introduction from someone who can provide details of their experience handling archival materials (e.g., an academic tutor, a certified librarian or archivist, etc.).
If you do not have prior experience working with archival materials, we will arrange an introductory session and provide advice and assistance as necessary.
To arrange a visit, please email library@sgsoc.org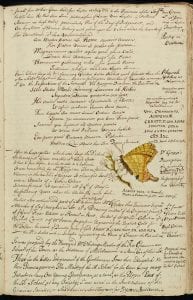 To Arrange a Visit, contact:
Dr Dustin M. Frazier Wood, Librarian
Diane Clay, Deputy Librarian