Spalding's ARTeFACT arts trail combines history, art and augmented reality technology. Created by artists Neil Baker and Steven Hatton of Electric Egg in a collaboration between the Spalding Gentlemen's Society Museum and Transported, ARTeFACT is a dynamic and interactive trail of brass plaques that explores the museum's collection and connects people to the area's history.
The plaques have been drawn digitally before being etched into brass. The choice of brass is inspired by the monumental brasses found in churches across the county. As with the monumental brasses, we hope that residents and visitors to Spalding will take away their own version of the artwork through rubbings, thus reviving a once popular pastime and encouraging people to create their own interpretation of the artworks.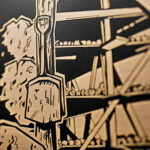 The interaction doesn't stop there though! Each of the artworks can be brought to life with augmented reality technology using your smartphone or tablet. Download the Artivive app for free to unlock 8 animations which bring the plaques to life infront of you. The Artive app is simple to use to access the Augmented Reality animations, just open the app on your phone and point the camera at the artwork and this will trigger the animation. For those who are unable to use the Artivive app or are unable to visit the artworks in person – please see the video below which shows the animations in action.
The ARTeFACT project has focused on connecting the people of Spalding with their museum. The museum has taken artefacts into schools and the town's marketplace to share our collection with a wider audience. Artists Electric Egg ran a series of school and community workshops that informed and influenced the designs and animations.
In addition to the app which brings the artworks to life, you can also download a PDF of the trail leaflet. This gives a short introduction to each artwork and a map to guide you around the trail.
ARTeFACT was supported by Arts Council England, South Holland District Council and Lincolnshire County Council and created by Electric Egg in partnership with the museum and Transported.
Installation by Jamie Hawker of JRH Services
Spalding Gentlemen's Society – sgsoc.org
Electric Egg – electricegg.co.uk
Transported – transportedart.com