---
SGSocAdmin
This item is not in the museum, but rather on it. When walking past the museum, many may have noticed a ship perched upon the roof. That ship is in fact a weathervane.
The weathervane came from the roof of the "Old Ship" warehouse in Double Street. It is shown on a view of the warehouses in Double Street which was painted by Hilkiah Burgess in 1827.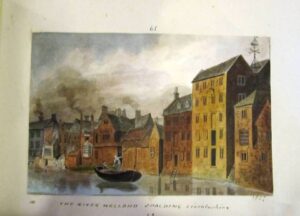 When the warehouse was demolished in 1964, the owners generously donated the weathervane to the Society. The vane is made of copper, and when donated it retained some painted colour. It represents a three masted seagoing vessel, of a type that would have been used to transport goods into and out of Spalding when the port was active. The Society contacted the National Maritime Museum in the 1980s to ask if it might be possible to identify the ship as a specific vessel. The Museum Director replied that it was unlikely to be of any particular vessel, and noted that the flag on the stern was a Union Jack, rather than a Red Ensign which would have been the flag actually flown by an actual merchant ship, suggesting that the maker did not have a specific model to copy.
After the donation in 1964, it remained in the Museum for many years while waiting to be erected on the roof. It was finally put in place there in 1996. Apart from the physical problems which had to be solved, detailed permissions had to be given for such a change to the building. One beneficial result was that a detailed drawing of the vane and the building was prepared. The weathervane now remains a wonderful reminder of Spalding's history as an active trading port.