---
SGSocAdmin
Captain Christopher Middleton's Map and Book
-Jonathan Dobbs, SGS Member & Volunteer Coordinator
A couple of weeks ago my Father was given a birthday present from his family to enable both him, and my Mother, to keep in touch with their grandchildren.
Advertised as an easy to use video calling device, Portal from Facebook also has the slogan: 'If you can't be there, feel there'.
I am not too keen on the advertising slogan – I am more impressed with Facebook's portal – but my favourite portal lies elsewhere. Since I first entered its Broad Street home Spalding Gentlemen's Society has become my portal to the past.
One Tuesday morning at the Society I came across a map of Hudson Bay, Canada. A couple of handwritten lines at the bottom of the map informed me that it had been donated together with an account of a voyage to discover a Northwest Passage. Our librarian Dustin found the accompanying book which transported me to a frozen eighteenth century landscape where I began to learn about Spalding Gentlemen's Society member Captain Christopher Middleton.

He was the first sea captain to become a Fellow of The Royal Society and also the first to receive its most prestigious award the Copley Medal.
He became a captain in 1725 when given command of the Hudson's Bay Company's ship Hannah. The following year The Royal Society published his paper on the variation of the magnetic needle in Hudson Bay and he continued to supply the Society with similar observations collected during a dozen annual trading voyages from England to Canada.
These Royal Society papers changed Middleton's life as they attracted the attention of Arthur Dobbs, an influential Irish politician and hard-line free trader.  Dobbs wanted to end the Hudson's Bay Company's trade monopoly by finding the Northwest Passage, a route westward from the Atlantic Ocean to the Pacific Ocean through Canada.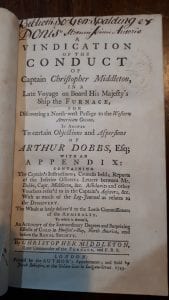 Dobbs found an ally in Middleton as the captain was one of a long line of seamen who dreamed of finding the Northwest Passage.
What followed was years of lobbying by both Dobbs and Middleton before they finally got the blessing of King George II in 1740 for the first-ever British naval expedition to set sail the following year in search of the Northwest Passage through Hudson Bay.
In order to lead the 1741 expedition Middleton had to give up his long and successful career with the Hudson's Bay Company to take up a temporary commission in the Royal Navy.
After sailing further in Hudson Bay than any previous vessel, the two ship expedition returned to England the following year with Middleton concluding that there was no Northwest Passage to be found.
It was the Society's copy of Middleton's map of the expedition's discoveries that introduced me to him. He presented both the map and his self-penned book 'A Vindication of The Conduct of Captain Christopher Middleton' to the Society in 1743.